Discover the fastest way to treat Plantar Fasciitis.
Introducing the Erchonia FX 635 Laser.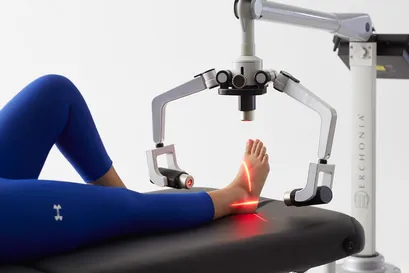 Now you can relieve the pain and inflammation of the heel associated with plantar fasciitis. Our new FDA market cleared laser has been proven in clinical tests to effectively treat this painful condition. The regenerative powers of this low level laser technology can reduce inflammation and eliminate pain in the plantar fascia in only a matter of weeks and return your patients to an active life once again.
Nothing else like it
Unlike other lasers on the market, the FX 635 is proven to promote cellular regeneration through painless bio-stimulation. It provides patients experiencing chronic heel pain with a non-invasive, efficacious solution to quickly improve their walking comfort and quality of life without surgery. While other lasers may claim to treat this problem, only the FX 635 has been market cleared by the FDA to treat plantar fasciitis.
360 Chiropractic is now accepting appointments for Erchonia's new FX 635 laser treatment for the relief of chronic heel pain from plantar fasciitis. The FDA-approved, non-invasive FX 635 laser is proven to significantly reduce heel pain from plantar fasciitis in just three weeks.
Erchonia's FX 635 laser received FDA-clearance based on a double-blind, randomized, multi-site and placebo-controlled clinical trial. Almost all patients treated with the FX 635 laser noted a dramatic reduction in pain and an improvement in function.
"Plantar fasciitis can be extremely painful and persistent. Erchonia's FX 635 laser is ideal for chronic heel pain sufferers, because it offers effective, pain-free treatment—without side effects. In just three weeks with two treatments per week, patients can have significant and lasting relief from plantar fasciitis." - Dr. George Olar
About Erchonia
Erchonia is the global leader in low level laser healthcare applications. Over the last 15 years, Erchonia has been conducting research and development with the world's leading physicians to advance the science of low level lasers. Erchonia created the low level laser category after the company was granted the first low level laser FDA clearance for any indication in 2002. Prior to market introduction, all Erchonia lasers are proven safe and effective through independent clinical trials.